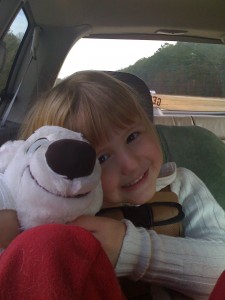 I was tucking the kids in tonight, and went in to Tiller's room and sat on her bed beside her. I leaned over her, and told her how much i loved her and that i was so glad she was in my life. I told her I was proud of her. She has an indescribable look on her face when we talk like this at bedtime; all sweetness and almost a demure embarrassment, with maybe a touch of "tell me again."
She looked at me and whispered, "Mama?"
I answered, "Yes, sweetie?"
Tiller: "Who will be my Mama and Daddy when I grow up?"
My stomach clutched. I don't know why these questions get to me like they do. i guess my fear of one day not being there for her, of something happening to me or Todd, or god forbid, both of us.
Me: "We will always be your Mama and Daddy, no matter how big you get."
This seemed to satisfy her for a moment, but then I saw a flash of uncertainty pass across her face.
She said, "Okay, but don't ever live far, far away."
Me: "I won't baby. As long as you want to live near us, we will live together. I promise."
It is nice to be the center of her universe, even though I know one day i won't be. I am so thankful that every day my children teach me something about how to love more fully than I ever have before.
Tags: love, Parenting Rocks, Tiller