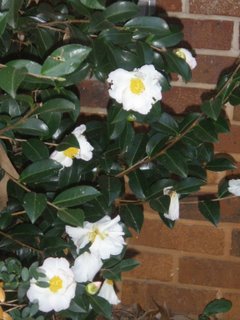 Yesterday afternoon, Todd called me out to look at some yard work he was doing. Turns out that one of the shrubs we've been basically ignoring until it is cool enough to prune is actually a really huge fall-blooming Camellia. It has about a kajillion buds on it, and just a few blooms yet.
We spent two years at the old house, not wanting to do too much work on the place since it was for sale, but my whole being was aching to dig in the dirt. And now we are here, and we haven't done a ton to the outside yet. (Well, i haven't. I just did a small garden this spring for tomatoes; Todd did a HUGE job clearing out the ivy in the back third of the yard. No small undertaking.)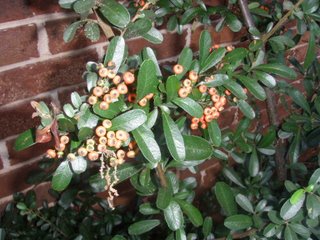 It is really fun to go through a whole year's cycle and have surprises pop up. We came in April. Since then, we've had a surprise Weigela (sp?), some shrub with a form similar to the weigela or a Forsythia, but with little white flowers on it that bees LOVE. A number of old daylilies that obviously need to be divided, but that i was just ultra-excited were there. Some kind of spring-blooming fruit tree. A cherry, maybe? Awesomely huge tulip poplars that remind me of the old Saddle Creek house. Tons of Azaleas and Hostas. Probably 6-8 Dogwoods. (Dogwood Girl's natural habitat!) We also have two birdbaths that just came with the house. And a windchime. Anyway, i was v. excited to come across the Camellia and the Pyracantha (I think that's what it is) and I am really looking forward to seeing what the winter garden presents me with – I foresee a lot of Holly and Nandina. There is a lot to be said for buying an older home and it's established garden.
Oh, and because THEY deserve equal facetime, here are my kitty cats, watching birds and chipmunks out the window today.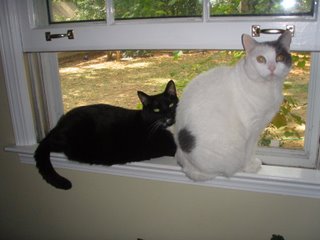 And a few pictures of something else i've been growing, my ultra-cute* kids. I really couldn't pick just one of these shots.
*They beat the crap out of each other in a wrestling match seconds after I snapped these shots.
Tags: Brother Sister, Dogwood Girl Garden, Rollie, Scully, Simon, Tiller