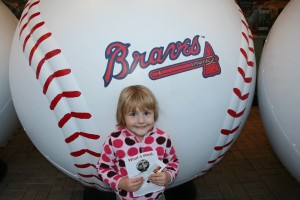 I am not sure how we waited this long to take her to a Braves game. Rollie had been to a few games by the time he was Tiller's age. His first game was the in August 2005 when I was pregnant with Tiller. But it is harder to get four free tickets and life gets in the way, and she is the youngest and just sometimes gets screwed when it comes to "Firsts." I just forget about them. I know I am not the only mother who does this, and I honestly try to keep up with them, but they are often forgotten in the rush of life. Some of the milestones just seem less exciting the second time around. I have to remind myself that they are just as special for her as they were for him. I have to remind myself that they are her milestones, not mine.
So, Uncle Ned gave us Turner vouchers and we traded them in for the good seats. Thanks, Uncle Ned! We love you!
Game started at 7 pm, against the Nationals. We picked the game because of the earlier start time; the earlier the better, because my kids are usually in bed by 7pm. This was a big night for them. Braves had lost their slim outside chance of a wild card spot earlier that day when the Rockies won, so it was a pretty laid-back game, with a decent crowd, but not too crowded. The weather was perfect: Warm as the sun went down, then changing over to cool, sweatshirt weather, but not so cold that we needed blankets or gloves. Not a cloud in the sky. Perfect.
As we walked up to the front of Turner Field, the first thing Tills said was "Look, Mama! A baseball!" She had seen the huge picture of Hank Aaron's 715 ball that is blown up on the side of the stadium. We walked over to get tickets for our vouchers and as we walked by a statue, she said, "Look Mama! A big baseball guy!" I took her over to shower and I squatted down next to her and said, "That's Hank Aaron baby. He held the home run record for a long time, and he was a Brave." For some reason i felt a little choked up. She never took her eyes off the statue, and nodded her head like she knew who the hell Hank Aaron was.
We got inside and she freaked out on the big baseballs, like all the kids do. They started asking about food. Todd took the kids to the seats and i grabbed a couple of beers. We had GREAT seats. Some nice and very southern men behind us told Tiller that if they caught a foul ball, they'd give it to her. We had to have a talk about how if someone gives you a ball, you don't throw it back in – That kid at the Phillies game (think it was the Phillies) really did some damage to kids' ideas about what you do with a game ball! Not long after that, a foul ball went crazy in the stands near us. I moved Tiller to a seat on the other side of me from the batters. I thought about priorities: Son and Daughter; camera; beer; game ball. What would i do? I daydreamed that I stand up as the ball comes whizzing towards us, thereby blocking daughter, and with beer in my left hand, I snag the ball, bare-handed, with my right. Everyone cheers. Tiller and I make Sports center that night.
The kids did great. After eating whole slices of pizza (can't believe my kids are old enough to eat a whole slice, much less carry them back to their seats, and not drop them), we promised them cotton candy in the 6th inning. They became more preoccupied with the cotton candy than the game, but i guess that's normal. They loved the Coke bottle and Chick-fil-a cow, too. In the 6th, they finally got their cotton candy.
Afterwards, Rollie went with Todd to go to the bathroom. (The kids had split a Sprite, and they had sucked it down, as they normally do when they get contraband drink.) Tiller and I were sitting together as we went into the 7th inning stretch. When everyone stood up, she looked confused. "Why is everyone standing up, Mama?" You forget that kids have never experienced things before. You wonder at their little heads, which have so much GREAT stuff to experience, like their first 7th-inning stretch. I lifted her up, so she could see the big screen over the heads of the folks in front of us. I sang my guts out on "Take me out to the ballgame." She got a big smile on her face and rocked back and forth in my arms to the song. I got a little choked up again. Then my weepiness turned to annoyance as they started that stupid, "Thank God I'm a Country Boy" song. Not that I mind that song, in fact, i loved it as a kid, but it just seems weird that they play it there. Tiller liked it.
The Braves were tied one-one, and then the Nationals went up to 2-1 around the 8th, i think. So, the bottom of the 9th was a pretty fun one, with the Braves trying to make something happen, and me and Todd debating whether we'd rather them win, or have to sit through extra innings with two zombie children, who were sitting on our laps by that point. Because we couldn't just leave. No, long ago, Todd and I bonded over the fact that our dads both always made us leave FulCo during the ninth, to beat traffic. (You will see a theme here with Cecil, if I have ever mentioned his need to "Beat the Baptists" every Sunday after church.) We said we would never have to leave a game early again. So, were were there for the long haul. Luckily? Unluckily? The Braves didn't push it to extra innings and we all headed back to the car.
Other milestones for Tiller last night:
Learning the claps when the Braves are coming up to bat! Looking at the fireworks on the gas sign when there's a strikeout! CHARGE!!!!!! The Tomahawk chop!!!!!! What happens when there's a home run! (The look on her face was priceless.)