So, I bitch a lot about staying at home with my kids. It is exhausting being a stay-at-home mom, and even more difficult when you work from home. I don't work a ton of hours, but I do some freelance Technical Writing, editing, etc. Just a little something to keep me current, and to bring in a little extra dough.
Sometimes, though, I am reminded of how lucky I am, even though I don't make a ton of money, and it usually takes me twice as long to do things as it would if I had no kids "helping me."
Like this morning, for instance. I was editing a ColdFusion test, and decided to take a break. When I say, "decided" i mean that the kids came upstairs and starting trying to kill each other, and I thought I should distract them. I had just the thing.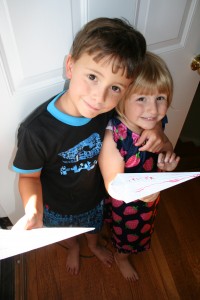 I need to remind myself every so often that the Work-at-Home-Mom (WAHM) job description includes such awesome perks as:
Working in PJs until lunchtime
Opportunity to expand knowledge of paper airplane design, engineering, and manufacture
Occasional payment in Art
Not too bad.