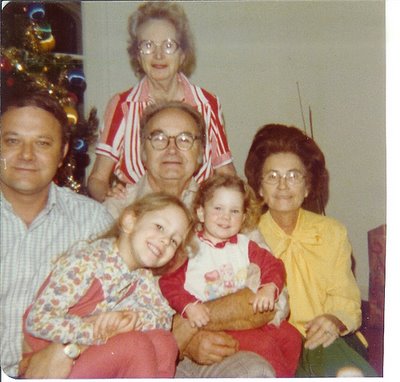 My grandfather turns 91 today. You ain't seen nothin'. He's seen four wars (not including these two latest ones), the holocaust, the coming of electricity, running water, automobiles, the telephone, the radio, and television. I'm pretty sure he thinks the way a mouse operates is simply magic.
I wrote a really long post about him for his 90th last year. My mom thought it was cool. Yes, my mom reads my blog; Frightening, no? Just what you want your mama to read: This, or this, or this. She printed the post out and showed it to him. He read it, smiled, and was quiet for a few seconds, then said, "I guess she'll just put the death dates on later." He is a funny guy. Happy birthday, Pop! I love you!
That's us together in Christmas of '77: From left – Dad, Me, Grandma Smith, Pop, Lisa, and Grandma Palmer.