It's been one year, today, since my Cousin Jane was brutally murdered in her home in Chattanooga. What a difficult year it has been for her family and friends, grappling with ideas of good and evil, and heaven and loss. Not a day goes by for those who loved her that they don't think of her, with both sadness and fondness. So, like others who loved her, I have been dreading this day, and my heart has felt heavy all week.
But life goes on, whether we want it to or not. Bills to be paid, kids to feed, etc. I got a new iPhone this week, and I was cleaning out my email inbox before setting it up, and let's just say I had emails saved from YEARS ago. I still had an email that Jane had sent me in November of 2009. My mom had told me that the pickles I'd made were okay, but that I needed to get the recipe for her Aunt Beulah's pickles from Jane; Beulah's bread and butter pickles were just the best, said Mom. So, I had emailed Jane, and she had promised to send me the recipe, and sure enough she did.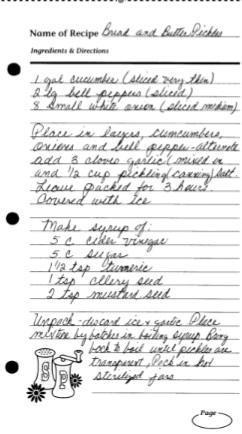 When you layer the cucumber, onion and bell pepper, I usually sprinkle with a little of the canning salt and a layer of ice, ending with ice on top. You will quickly get your fill of slicing the cucumbers. If you run low on syrup, just whip up some more, maybe cutting the recipe in half. 2 ½ cups of sugar and vinegar, etc. I usually clean my kitchen sink and put all the vegetables in it. Leave the drain open So, at the end of next summer, I expect a jar of pickles. Enjoy, Jane.
I can't tell you how much I regret not making those pickles, and not taking a jar up to Jane in Chattanooga, and letting her try them, and having her tell me whether they tasted like Beulah's. Jane and Beulah are gone now (hell, Beulah was gone long before I was born!), so I hope they won't be mad at me for sharing the family recipe. I think I might make some this summer, and maybe get Tiller to help, then take a jar to my Mama and see if they taste right. I thought other folks, especially those who loved Jane, might have cucumbers coming in, and want to make some of Beulah's Bread and Butter Pickles. If you do, say a little thank you to Jane and Beulah for sharing with us. I'm not sure why passing down recipes is comforting, but I do know that there is still good in the world and that I found Beulah's pickle recipe in my inbox this week for a reason.
With Love and a few tears,
Annie
Tags: Beulah, Bread and butter pickles, Family Recipes, Jane Stokes, Stevens Family