One of the fun things about having a husband in the biz is that after shoots, we get our pick from the wardrobe. Now, sometimes it is crap, but yesterday's haul was better than usual. Except that two pairs of the cute shoes were not even remotely big enough to fit me. These Vision Street Wear sneaks were, though!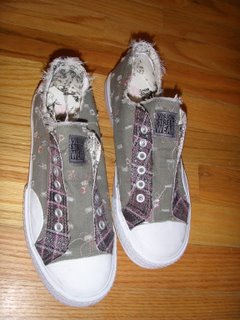 The other fun part is that sometimes the crap is funny crap, which we then proceed to dress up* in. Like this Addidas track suit in Todd's size, and also the completely blinged-out Marc Jacobs watch. You can't tell in the picture, but it has huge rhinestone-like stones around the face of the watch.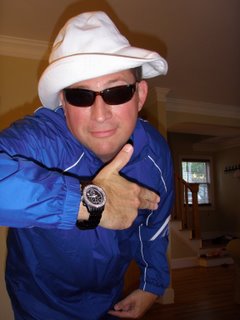 *Big props to T for humoring me and dressing up in wardrobe, despite being late for sneak preview of 28 Weeks Later with Ned.