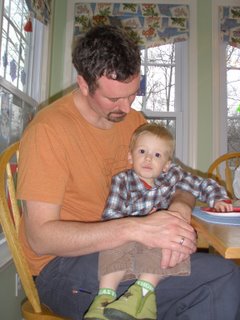 Spent yesterday morning with my old friends Mike and Bryan and their families. Mike is an old high school friend, and Brian I met at Georgia. Mike has been living in the Netherlands for the past . . .four? years or so, but he and wife Kat and two boys are moving back to the states.
We met at Mike's sister's house, and another of his sisters (Mary) was there with her son, and it was just so fun to see my old friends and their wonderful wives and families (who read Dogwood Girl and are very accepting of my potty mouth. Thank God Mike's Mom doesn't read it, because I think she still hates me for not wearing shoes in her house in high school; DogwoodGirl might put her over the edge.) They even fed us and the kids. It was like a morning on vacation.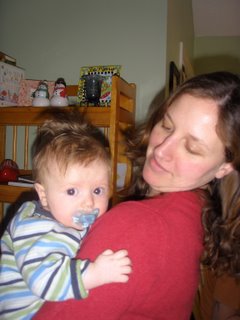 It is easy to lose touch with old friends, to never find the time to get together. But when you do get together, you find that many things have changed, and many things have stayed the same, and you are reminded of why you were friends with them in the first place. And you are warmed to know they are still in your life.
And also to find out that they will be living near the beach. The warm, warm beach.
p.s. Mike and Kat's blog is no longer Hollandsenieuwe; New locale, new name – Resident Aliens. Check'em out as they wade back into life in the states, and Kat searches for a position teaching Environmental Policy at the college level.
p.p.s. None of my pics of Bryan, Genia, and Henry came out well at all. Wah!