So, the mean girls are evidently in full effect in kindergarten these days. I wouldn't believe it, if I hadn't seen with my own eyes the drastic change in my own girl. She pouts. She whines. She tosses out ultimatums. She's all, "I won't be your friend unless/if" and "so and so says she doesn't want to be my friend any more. Now she and so and so are BFFS."
I say, "What is a BFF?" She rolls her eyes at me.
Where did my sweet little girl go? She sure as hell didn't learn this bullshit from me. This shit is why I always had more male friends than girl friends. (Once I was old enough to realize that girls generally suck and are more trouble than they're worth). I'm not surprised that it's happening. Just surprised that it's happening so early. I thought for sure that I would have until fourth or fifth grade, at least, until i dealt with Queen Bees, Heathers, and Mean Girls.
So, where is it coming from? Have little girls always been this way, this early? Is it too much TV, with the bratty, self-centered, smart-mouthed girls? Is it my generation's fault? As a girl, if you sassed your Mama, that was frowned upon. Were we completely misguided, misappropriating the term, reading our Sassy Magazines, and reveling in our own sassy attitudes? Have our girls just learned from us? What happened to true friendship, or at least the old adage, "Treat others as you would like to be treated?" I fear we have lost it in a whirlwind (an ill girlwind?) of iCarly and Miley and Serena. This is not what i had in mind when I reveled in the awesome women in music of my youth: Joan Jett, Madonna, Sinead O'Connor, Chrissie Hinde, Debby Harry, Terry Nunn, and Johnette Napolitano. What the fuck happened?
So, I've been a bit bewildered, dealing with the tears and the tantrums, the stomping and the mirror-smashing door slamming. To say that I am in fear of the age of 13 is putting it lightly. But she's only six. And worse than the tears over her own hurt feelings? The knowledge that she is picking up the same tactics and using them on others, in some sort of Lord of the Flies scenario. She is not treating others as she wants to be treated, but as they are treating her. And so it is that we have reached the advent of The Mean Girl Note.
Be frightened. Be very, very frightened.
Or if you are me, be very disgusted, a little sickened, and a whole lot disappointed.
We had friends over the other night. They have a girl about T's age. The kids all play well together and almost never fight. But they fought this evening. Something about not all wanting to play the same game, which was some kind of running club game. (I am of course in total support of this game, as any game that involves them wearing their little asses out is always my first choice. "Here, baby. Tie this rope, the one attached to the cement block, around your waist. Good. Now run back and forth in the back yard, dragging the cement block behind you. Yes, that's right. Now do it as many times as you can. Y'all have fun!")
So, the girls disagreed and one of them quit and played with R (the only boy), having become fed up with the arguing. (Girl after my own heart.) After they left, and our kids were in bed, Todd and I came across the mean girl note. It read something along the lines of, "I will be your friend, if you will play the game with me. If not, you are not my friend."
GRRRRRRRR. This is it. This is the fucking bullshit that girls do that made me want to BLOW UP MY FUCKING MIDDLE SCHOOL. That's a bit of a lie. I didn't always daydream about blowing up the middle school. I actually would have been more happy if there was some kind of disfiguring virus that attacked all the mean, superficial girls. They would contract the disease (spread by lip gloss and notes, of course), suffer a deathly illness for weeks, and then come back to school with hair fallen out, a few pounds piled on, complete pizza face acne, and wearing clothes from [GASP] Goodwill. You know who else would get hit? The social climbing brown nosing types. You know the ones: Not really ugly, but not exactly pretty either. Kind of plain, but with a layer of too much makeup that said, I'm trying too hard. They usually still had some baby fat. They did just what the popular girls wanted them to do, and followed them around like god damn puppets. They also threw their also-not-so-popular brethren under the bus in an attempt to impress the popular girls. In my eyes, they were always the absolute sorriest pieces of shit of them all. Because they wanted to be popular so. very. badly.
Oh, wait. This post isn't about me? My bad.
So, we found the note. The next morning, Todd talked to Tills about it, and about all the ways in which it was wrong to write it, and they decided together that the next day, she would write a letter apologizing to her friend. I would help her write it after school. It was bedtime when Todd came home the next night. He asked if Tiller had written her letter. I did the deer in headlights – Because I am such a stellar parent, I had completely forgotten about it, what with all the Bonbons I was eating, and Facebook and my soap operas. I promised that I would help her with it the next day, and told him the kids were in bed, but not asleep, and they wanted him to come and tuck them in.
He went upstairs. A few minutes, he came back down, with a funny look on his face, holding a piece of paper. This piece of paper: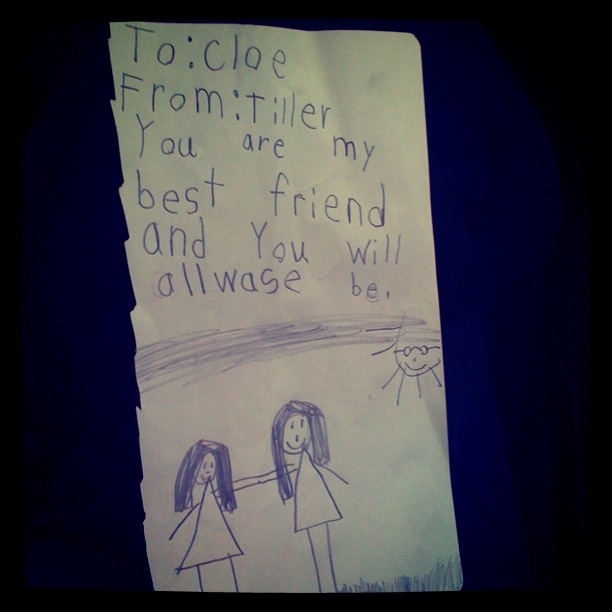 She wrote it some time after school, of her own accord. It is so sweet I could cry. Yeah, she misspelled some stuff, but SHE PUT A PAIR OF SUNGLASSES ON THE SUN, for heaven's sake. How can there be a mean girl in a child who thinks the sun wears shades?
I would be happier if it said "I'm sorry for hurting your feelings." I would prefer it dropped the "best friends" language all together, as the premise of Best Friends seems exclusionary by its very nature. But the essence of it, of two girls, holding hands so sweetly together, so full of love and light that the very sun is blinded by it. . . I'll take it.
Hell, I'll cling to it. Allwase.