I am such a slacker.
So, after I racked the bike, took off my helmet, and slapped on my sunglasses and running hat, I headed back down the steep hill. The ingress and egress for the swim and run into and out of transition just weren't well planned. As soon as I came down the hill past the pavilion, I ran past the stairs that go back up to the parking lot, and there were my kiddos and my husband. I almost busted a gut trying not to laugh and stop running.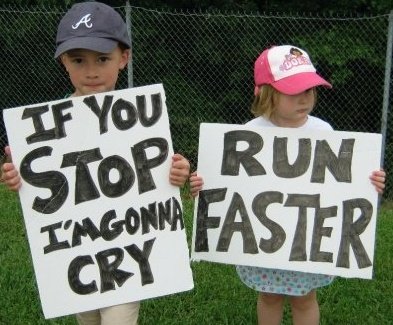 Did I mention that my husband is really the funniest person I know?
So, after slowing down to say hi to my kids the comedians, I continued down the path for the run. You have to go down some stairs, across a wooden bridge, through the gate to the waterpark and then turn right to go up a hill. The hill is steep and I was not the only one cussing as I went up it. Luckily, the route was an out and back, so there lots of people coming down the hill telling us that the hill was the worst part of the run and after it, the rest was a breeze. They were right, but of course I didn't believe them at the time.
This part of the race was also weird, because they had the "out" runners running on the left and the "In" runners coming back in on the right. It was like driving on the wrong side of the road and very disorienting. Once I made it up to the road, it was pretty smooth sailing. The hills were rolling. I wouldn't even say there was much of a hill. I passed Shannon, coming back in, and we waved and she looked great. I saw Lucy about this time, too. I ran to the water station, which was at the turnaround, then got my water and walked through the turn, because I am not coordinated enough to drink water and run at the same time. Not sure how people do that.
There was a very thinned out group at this point, and it was easy to pass some walkers on the way back. I found that while I was tired, I was mentally pretty wired, and felt good about running most of the way back. The only exception to this was the last hill up to transition. (Seriously, folks. This is a short hill, but straight up, and very mentally discouraging for people who want to make a strong finish. Definitely my least favorite feature of the race.)
Had to walk up the hill a smidge, but made it to the top and jogged through to the finish.
Afterwards, I sucked orange slices and drank powerade and got my shirt. I hugged my kids and chatted with my friends.
We went home, I ate Los Hermanos and had a margarita as big as my head, then I napped for thirty minutes before going to Shannon and Matt's in Cabbagetown for a very low-key post race celebration. We drank beer on the porch, ate pizza, took the kids and dogs to the park, kicked a soccer ball around, and swung on the rope swing. It was hot but relaxing.
Some more pictures from the day:
The bad part came when I got the results a day or so later. I did not do very well.
I came in 613th of 666 people. 64th of 71 in my age group.
I was extremely disappointed. I guess, going in, i thought that I would surprise myself. I didn't. Granted, I had the bike malfunctions, but even with those, I would still only be about 50th of the 70 competitors in my age group. I swam the full distance, while some folks stood up near shore and ran part of the way. But I did not do as well as I hoped i would. Not even close.
734 Anne Johnson
MFT F 35-39 37
Swim: 0:12:21.808
T1: 0:03:30.704
Bike: 1:07:21.767
T2: 0:01:39.899
Run: 0:32:51.427
Total: 1:57:45.605
So, i beat myself up over it for a day or so, and now I am back on course. It is so obvious that the problem is my weight. I need to lose weight. I am putting up my sorry numbers, and my pictures of my fat ass finishing, as a reminder to myself that I need to improve. Maybe I will, and someday I will look at these and instead of being disgusted with myself, i will be proud of how much I have improved.
All of that being said, I am proud of myself for picking a goal and sticking with my training and seeing it through to the finish. I will improve. I will.