So, I signed up for a sprint Triathlon at Lake Lanier. I signed up early, because sometimes they fill up, and then life did what it does: It got crazy. T-ball and swim team. End of school programs and parties and gifts to buy. Todd's new job that has already sent him to NYC twice and which keeps him away from us a lot. My bout with depression, which is ironic, really – I get depressed when I don't work out. I was too depressed to get my shit together and work out. I didn't work out, which increased my depression. Cue endless cycle. Feeling much better on that front.
Anyway, i thought about just bailing on the whole triathlon thing. I did some workouts for my training, but my heart wasn't in them. I skipped others. But when it came down to it, I just couldn't bring my self to skip on race day. So I went. And I am glad. There is a singular and unique feeling of having completed a race or triathlon; not much compares to it.
However – If you don't get in all your training beforehand, or more specifically, if you don't get in much training at all?
IT IS PAINFUL.
I knew i would finish. I had done one before, and i hadn't died. I had done the same (almost the same) course before. I even had some grand ideas about beating last year's time.
HAHAHAHAHAHAHAHAHAHAHAHAHAHA!
It was so not funny.
I wasn't nervous before the swim. Although there are many people who freak about the swimming portion, i really like it. Kind of peaceful almost. Cool lake water, 8 am. I kinda like it. Plus, fat girls can hold their own with skinny girls in the swimming portion. But when I got towards the end of that, and got ready for the run to transition, I just knew: This was gonna hurt.
So, I hoofed it up to transition. I changed to my bike stuff. Still feeling fine, but just not feeling REALLY fine. Hopped on the bike, and headed out. I could tell almost right away – my lack of time in the saddle really hurt me. (Not to mention some ridiculous humidity.) The coolest part of the bike is probably crossing the big bridge at Lake Lanier Islands. Very fun to haul ass across that bridge on a bike. Not so fun? Big curving hill on Holiday Rd., and the killer on New Prospect Rd. I admit it – I thought about getting off and walking it. I thought i was gonna die. The rest of that out and back is pretty easy. A few rolling hills, but mostly flat and wide, with bike lanes and well-directed traffic, pretty scenery – farms and tractors and fields, mixed in with the crappy subdivisions, and roadside ditches dotted with Queen Anne's Lace, which always reminds me of walks with my great Aunt Virginia, whom we all called Bubba.
I got passed a lot. A LOT. Not a good feeling.
I think my goal for the summer will be to try and get a bike ride in at least every weekend. And to find some riding partners, because I need someone to keep me honest, and get me up and out early. Also? Safety in numbers.
My son is reading my blog over my shoulder. Spooky.
Now he is laughing.
He is a bit of a goober.
More laughing.
Stop it, Rollie.
Anyway, I made it back and rounded the last corner. I saw Todd and the kids sitting on the sidewalk.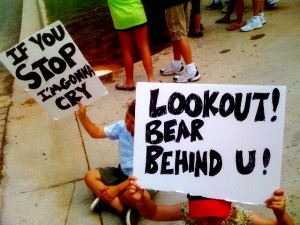 It raised my spirits.
Got back to transition, put on my hat, and headed off. I was already feeling kind of done. Managed to run past the bulk of the crowd (shame is a powerful motivator for me) and then walked a while. Made a deal with myself that I would run downhills and flats, and walk the hills. I had some water in transition, so I skipped the first water station, thinking i would get water at the next one. Thought it was odd that it was unmanned and there were only larger water bottles (they were like 40 oz bottles of water, i think – huge-looking.) Last year, on the run, there were water stations at the end of the out-and-back. Not this time. No water. Broke my deal with myself to not walk when I got to the end and realized they had changed the course, and it wasn't the end, and there was no water there either.
Saw my friend Megan (Tucker Represent!) and we walked awhile and she gave me some of her water. It was hot as hell by then, and most of the run was in full sun. Got back to the water station and all of the water was gone.
FUCK.
Walked for a while again. Started to see the light at the end of the tunnel, knowing it would be over soon. Saw the last hill, and ran it. Nice spectators along this portion gave lots of support. You just can't slow down when you have people calling you out by number. "Go, 93! You got this!" and crap like that, really does help you when you are toast.
I was toast.
I rounded the corner to transition, and finally hit some shade. Came out of the woods to see my kids and Todd cheering for me, and Tiller ran out on the course and tried to run with me, which was cute, but I had to make her go back, which was kinda sad. Just running across the parking lot to the Finish line was about to kill me, and seeing my time, well, it was bittersweet. I was ten minutes slower than my last time, and last time I had a very time-consuming bike chain issue. But on the flip side, last time was much easier. This one was not fun. it was hard. I wanted to quit, numerous times, and did. (I count walking as quitting, I'll be honest.) But I finished. It was by far the harder of the two triathlons I have done, and I finished. There is something very much of value to be garnered from overcoming the sincere desire to quit, the cramp in your side, the thirst gone unquenched, the numb feet, and most of all, the negative dialogue you have with yourself in your head.
There is something to be said for going through with something, because you know you will be better for doing it, even though you know it will suck some serious ass.
And in the end, what you gain from it is usually way more than what you gave on the course. What you gain from it is yours, all yours, and cannot be taken away. Ever.