Dear Rollie,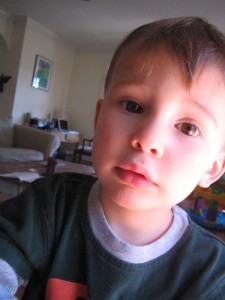 Baby, you are 12 today. I don't even know how we got here. It seems like I was just at Northside yesterday, waiting with your Daddy, watching Mash reruns (Suicide is Painless is forever ingrained in my memory now as a reminder of my labor with you), for your arrival. I love you and your sister equally, but by the time she came around, I was used to being a mother; But you, baby, turned my world inside out and changed me forever, more than anyone else has in my entire life.
I used to write about you every year around your birthday. I did it for Tiller, too. But somewhere along the way, I got down to the business of living, and I didn't have as much time for writing. You don't take naps anymore, unless you are sick, and nap time is when I would write.
Twelve is a birthday that needs to be written about. Twelve makes you seem so different, so in-between-two-worlds. In so many ways, you are still the same little boy you were when I wrote about you six years ago. When I wrote that, Lauren Shankman was pregnant with Jake. You were just starting Kindergarten. Six years from now, you will be starting your Senior year of high school. I cannot wrap my head around that.
My little boy is still there sometimes. You still need and want hugs. Sometimes when we walk together, you still take my hand. You will still sometimes come to me on the couch and sit with my arm around you and put your sweet head on my chest. Oh, your head. And that hair. You are almost a teenager, and the hair is starting to show it, as smelly and greasy as a pork chop like Scully the Cat's. Your hair is crazy, and reminds me of mine and Grandpa Palmer's. The more it grows out, the crazier it gets. I love it when it sticks up.
You have grown so much in the last year. You are all gargantuan feet and when I hug you, your head comes up right under my chin where I can rest my chin on top of your head. I would not be surprised if you outgrow me this year. You and Tiller will one day be taller than me, and it cracks me up that I am going to be the runt of the family in a couple years' time. How could you not grow, when you are eating so much? I never know anymore how much to make, or how much pizza to order. You could easily eat a pizza by yourself some days.
This year is the year that the lakehouse is being sold. I am thinking a lot of it, and will probably write about that, too, but please know that while my memories of childhood there are so very important to me, that my memories of time spent with you and Tiller there are more precious than you can imagine. I still remember you falling asleep on the boat, so small that the lifejacket almost swallowed you. I worried so much about making sure you have sunscreen on at all times. Now you put on your own sunscreen. I let you drive up and down the driveway there, and the feeling of sitting in the passenger sit beside you, your feet able to touch the pedals, and you in complete control, is one of the most surreal feelings I have ever had. We'll work on your braking skills.  I remember taking you for your first ride on the jetski – you were so scared and wanted me to slow down. In the last couple of years, when we ride together, you do the driving. You are careful and attentive, and the moments that we spent together riding around the lake, stopping at A-frame village to jump in and get wet, and going to Bulldog, and Goat Island, looking at osprey nests in the power lines, and the Marina. . . .those I think are moments i will think about when I am on my deathbed.
This is the year that you learned to cook grilled cheese and soup on your own. We have started leaving you home alone. You get yourself off to the bus on your own now, when Daddy and I have to leave early. We worried that you would have trouble with missing the bus, but you have been so responsible about getting there on time. And you ride the bus home and come in and stay with your sister until i get home. You also started playing Ultimate Frisbee, and meeting friends at Panera on Tuesday mornings, and you are still playing trumpet.
Last night at dinner, you told me that saw your first fight at school. And this is the year that you started middle school (6th grade!) and when i asked if you were nervous, you admitted that what scared you was the thought of going to a school dance. I told you I would dance with you beforehand, and I was pleasantly surprised that you seemed to find comfort in that, and I hope you will take me up on it. Thank you for still sharing some of your secrets with me, about crushes and girls; Your secrets are forever safe with me.
This was the first summer that you were allowed to go to the pool by yourself. The thought of that amazes me, when I think of all the hours I spent holding you in the pool, watching you like a hawk. You ride your bike there all by yourself, and sometimes you ride your bike to friends' houses. I barely worry. That amazes me. You go away for a week at camp without me and I know you are having fun and don't even miss us. That makes me happy and sad and proud, all at the same time.
People tell me all the time what excellent manners you have, and how kind and patient you are with little kids, and that you take the time to say hello to adults you know. That makes me proud too. It is an accomplishment for us that you can behave when we are not there to make you. Now if we could just tone down the eye-rolling, sighing, and angry outbursts at home, that would be great. I don't have a lot of hope for that, though, as I was 12 once, too. I know it is natural, no matter how infuriating it is sometimes. I know I love you anyway, even when I would very much like to slap you silly. I love you even though you are messy, and forgetful, and your room stinks no matter what we do to it. I love you even though you take so many long showers that we often have no hot water. Never forget that I love you no matter what.
Being 12 is hard. You are still a little boy, and almost a teenager. Your body is changing, you think too much (wonder where you got that from), and a new school and new social situations are scary. You are going to change so much in the next year, and I try to hold on to the little things that you do that say "little boy," but what i mostly see is handsome, smart, funny, charming, mercurial young man. Bear with me when i ask about your day, or school, or homework.  Bear with me if I still need hugs, or sometimes need you to hold my hand, or I want to kiss you on top of the head at bedtime.
I look forward to seeing you become a teenager in the next year, but it is terrifying at the same time. A natural progression, but really, really daunting. Kind of like that roller coaster scene in the movie Parenthood. . . Good thing you and I both love roller coasters.
Love,
Mama