Archive for February, 2013
Sunday, February 3rd, 2013
Friday, February 1st, 2013
When I was a little girl, my nickname was "Annie Mouse." (Lisa was "Sport Model.") I wanted to be Annie Horse, because I loved horses so much. I'm not sure where the Mouse came from – maybe mom or dad will chime in with an answer to that. My Grandma Smith called me Annie Boo. And even when Grandma was in her eighties, she called my Mom "Baby." And now I'm a parent and i understand why grandma called her 40 something daughter "baby" until the day she died.
Not sure where I'm going with this one, except that I know I'm still their baby, and now I understand why.
So, it was really cute when I got this card from mom and dad for my 41st birthday. I think it would be kind of hard to find a birthday card for a grown child that doesn't sound hokey. Mom was super excited – she said she was so excited to find it because it is perfect for me. And I have to admit; it really is. Pretty much sums it up. Mom knocked it out of the park. (Cash is still good too, though, Ma.)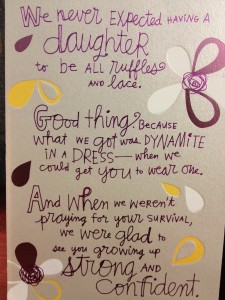 Sorry about all the times I worried you sick; I know payback will be hell. And it's still not that easy to get me to wear a dress, but good job – I survived! Thank you for reminding me that you always loved me, despite the tomboy ways, the explosiveness, the skinned knees when I did wear a dress (and this was well into my 30s!), the times I just had to see for myself; Y'all were more often right than not, but thank you for not resenting that I didn't believe you until I tried it anyway.
I know it's just a card, but it's nice to know I'm loved for who I am. I'm gonna try my damnedest to do the same for my own Boos.