So, about Tiller's birthday. She turned six on Saturday. SIX. Hard for me to fathom. Tiller wanted to have a scavenger hunt party, and we had just watched The Goonies as a family, so I made it a One-Eyed Willie's Treasure Hunt.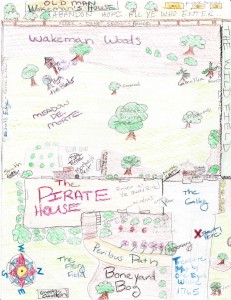 Every kid got a copy of One Eyed Willie's treasure map when they arrived. (We also had pirate cupcakes, Twinkies and Baby Ruths. I also bought Rocky Road, but totally forgot to pull it out, which is a good thing, because i was worried about angry mobs of parents attacking my house after they found out how much sugar I gave their kids.)
Happy birthday to my little girl. I love you very much, Tiller Badiller, Mac and chiller, Saspariller, Thriller from maniller!
– Your Loving Mama