Found this interesting photo of my grandmother Smith's Uncle, Arthur St. Charles Dunstan, in the Auburn archives.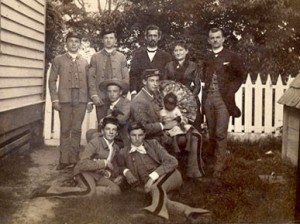 He was a student at Auburn, when it was Alabama Polytechnic Institute (API), later became a professor of Engineering there, and then head of the Engineering department. There was a building there named after him, Dunstan Hall, for many years, but I believe they may have renamed it.
His brother, my great-grandfather, was John Harris Rowe Dunstan. He also attended Auburn. Arthur, and their mother, Medora Louis Hall Dunstan, are buried in Pine Hill Cemetery in Auburn. It still blows my mind that the after party for my wedding was walking distance from the cemetery where my dear Grandma's own Grandmother, whose Civil War stories of Fredericksburg were handed down in the family, is buried, and I never knew it until years later. From Fredericksburg my line went, through Lee and Chatham county NC, to St. Tammany Parish, LA, and Chattanooga, TN to my parents having me in Atlanta, and me meeting a boy from Auburn, and ending up in that cemetery where my Grandmother's grandmother is buried.
Think I might go visit old Medora in a couple weeks. See how she's doing.
Tags: Cemeteries, Dunstan Family, photos