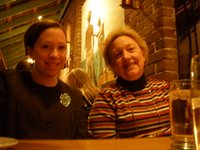 We started with dinner at Coast. Very good.
Then we dropped Mom off at the hotel and headed to The Blind Tiger for drinks with the wedding peeps. It was funny, because I had been to this bar before, only a couple months after Todd and I started dating. His friend Kate was married at the same place that my friend Marc married at Saturday night, and the night after her wedding, everyone went out for drinks. We went to the Blind Tiger, where Kate passed out at a table in the courtyard. Ah, memories.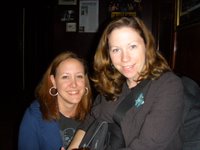 We had to wait a while for our friends, and Lisa is knocked up, so she was pretty much over it by the time they got there, but she perked up when she saw old friends and managed to stay out for a good while. I stayed longer, and had the pleasure of chatting with my old friend Pierce's wife, Fowler, for a good long while. She is awesome, which I totally would have imagined for Pierce.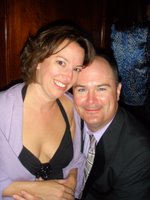 They next morning, Lisa and I headed out for coffee and shopping. We hit the Farmer's Market, which really consisted of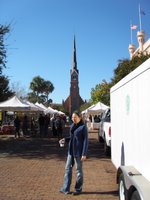 us oohing and aaahing over all the cute dogs people were walking around. The weather was perfect. We walked all down King Street looking at shops and I even saw real live fancy shoes at Bob Ellis. I think if I ever were rich, I would have a shoe problem. Plus, shoes and makeup are fun because they don't make you feel fat. Lisa and I both bought matching heart necklaces and did the sister bonding thing. See how cute we are?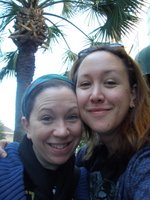 After that, we met up with Mom for lunch. It was a good thing we started looking for a lunch place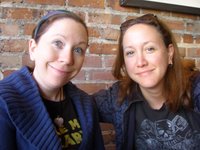 when we did, because if we had waited any longer, Pregzilla might have eaten Meeting St. We went to Monza for pizza, because that's what sounded good to the zilla. It was really good, and the service was great, and they played Wilco and Bloc Party, and once Lisa ate something, she was a human again. If any of you are paying attention now, you will realize that Lisa is wearing the sweater I wore on Saturday night. It is hers and really comfy. You will also realize that I am wearing the same shirt from the night before. I know! I packed like 500 things and did what I always do – Ended up wearing the comfortable tee. It's my signature look.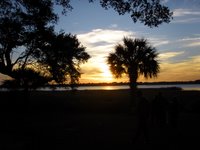 After lunch, Mom and Lisa headed home to nap (?!!) and I found a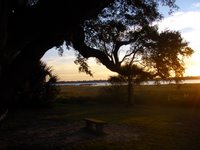 bar with as many tvs as possible so as to assure that I saw at least the first half of the Georgia/Kentucky game. I sat with some lovely Ohio State fans, and some not-so-lovely Gators and Vols. Most people were watching Ohio State/ Michigan. I had to leave at halftime to go get dressed for a 4PM wedding. Evidently, people from the Carolinas and Texas did not get the memo about NO WEDDINGS IN THE FALL IN THE SOUTH. It was explained to me later by the Texan groom that they just don't do weddings on Sundays, because of the Cowboys.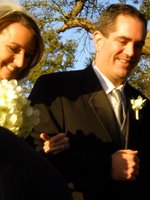 Whatevers. UGA won, and I was spared the heart-attack and heartbreak-inducing Tenn/Vandy game. Arrrrgggggh.
Found the lovely wedding location, Lowndes Grove, with time to spare. I always wonder what Yankees think of the south when they see a place like Lowndes Grove. Do they think that Southerners are immune to the beauty of such a place? Do they think regular folks live in places like this? Not so. I am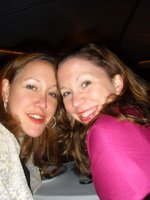 in awe whenever I am in a place like this. The weather was beautiful and the ceremony was timed perfectly to coincide with a lovely sunset over the Ashley River. Wedding went off without a hitch, even with that tricky "speak now or forever hold your peace" part. (Oh, the thoughts that went through my head just then, little Marky! Exploding hotdogs! Underage preteens passed out on my parents parquet floor! The never ending retaliatory prank calls the bride will endure!
Okay, here are the rest of the pics, taken before the reception was over and we got to the too-drunk-to-operate-camera, much-less-my-own-two-mysteriously-skinned-up-legs portion of the evening. Twas not pretty, but was better than my horribly-hung-over Sunday. Note to self: When drinking copious amounts at open bar, also partake of dinner buffet.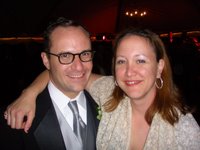 Me and Marc's college roomie, Mitchell, who lives in Midtown.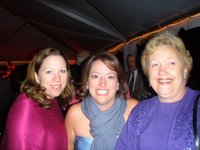 Lisa, Fowler, and my Mom.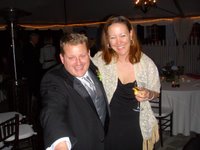 Two not-so-sober old acquaintances. I hadn't seen John in almost 20 years. I think the last time I saw him I was cleaning up puke at Aunt Dot's house. He was probably 15. Got to meet his wife, Ashley, a sassy and cute Aussie.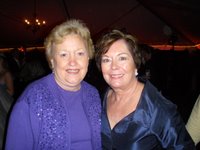 The reasons we were there – My mom and the Groom's mom, Judy, who were childhood friends in Chattanooga.
Tags: Charleston, Drinking, Friendship, JudyK, Knights, Lisa, Lowndes Grove, Marc's Wedding, mom, Pierce