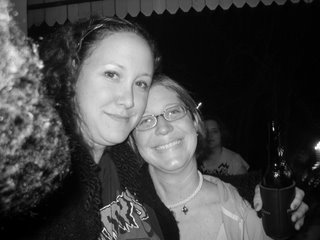 Night started off slow, with me laying a base of soup and salad at the nicest Olive Garden ever. Todd's Mom says so, and she should know, because she lives in that mecca of fine dining that is Dadeville, Alabama. I also had a latte at Starbucks in an attempt to jumpstart my very hung over body while Todd chatted with the Turks. No doin' on lighting a fire under me; It wasn't until I arrived at Iain's and choked down that first beer that I started feeling a little better. I had grandiose plans of dressing up, even maybe wearing a skirt, but I was lucky to get there in one piece, much less to change out of jeans and t-shirt. I threw on my fluffy-fringey sweater in an attempt to give myself some style and just ended up looking like a Smashing Pumpkins' D'arcy wanna-be from 1991. You will notice only one picture of me in the whole New Year's set on Flickr. This is not coincidence.
Highlights:
Black-eyed peas and greens and Iain and Annie's Crappy Cornbread Quiche.
Todd drinking brown liquor is always a highlight. He starts gesturing with his hands more, and he likes to stir the ice in his glass with a cute little tinkle. He gets a bounce in his step that he only ever gets when he is drinking liquor. (Bounce has been known to morph into him falling backwards on his ass in the basement at Gravity Pub, but he was drinking vodka tonics that night, so we cannot blame that on the revered bourbon whiskey.)
Watching people strip down and display body art and mutilation in the largest fucking bathroom in Alabama was pretty entertaining.
No evening is ever complete until you have cleared the whole living room of furniture so as to perform a few numbers from Grease, replete with male and female parts, and dancing on remaining furniture.
Finally, and this one is so obvious, but I will say it anyway: I am so cute when I am drinking. Everyone says so.
The only thing missing was the people that I couldn't be with this year, but they are always in my thoughts, and just as soon as I make that first million off Dogwood Girl, I am going to buy a farm and start a commune where we can all live together. Right after Lisa and I buy the Sea-Doo. It's gonna happen – 2007: The Year of Big Dreams. Who's with me?