And other assorted Auburn Thanksgiving happenings.
Todd's dad gave us his tickets to the Auburn/Alabama game, and they watched the children for us to boot. I had tailgated before, but had not actually been in the stadium for a game. The hate was palpable. Beforehand was stellar people-watching, as usual.

We met up with the Reids for tailgating in a prime spot by the theater. Old friends were there . . .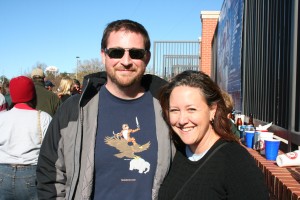 First half was good. Then we left (I had enough of the mouthbreather behind me, and of being packed in like sardines.) Second half? Not so good.
To be continued. . . And you know you have to read it, because it is just like you were there, and you can almost smell the November sunshine. Also, the suspense is killing you. Did Todd cry when they game was over?