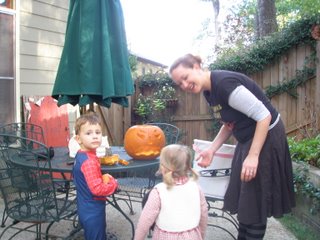 Halloween was ultra fun. We carved the pumpkin (yes, I am a total slacker and waited till the last minute) and then went and had pizza at Grant Central. After that, we walked around East Atlanta Village for the Eav-O-Ween celebration.
All of the shop owners hand out candy to the local kids, and the people-watching is pretty fun. The kids were pretty cute, and I have to say that kids don't get hipper than those who trick or treat The Earl and The Flatiron. Nothing like seeing your little ones waltz right up to a bar for trick or treating. Definitely beats the toothbrushes we used to get from Dr. Grove, the dentist who lived down our suburban street growing up.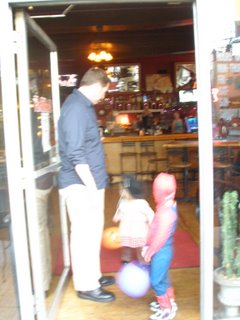 After that, we came home and Todd traipsed the kids down the street, while I stayed back to drink beer, er. . . hand out candy. There is something so heartstring-tugging about seeing your husband walking down the street, holding hands with the costumed kids, their other hands gripping the pumpkins so tightly and with such purpose. I had a lovely time talking with the neighbors and then Todd and the kids returned, the kids dove into the candy, and we sat around talking some more, while handing out candy. Halloween in the hood is a little different than in the 'burbs. The first few years, you are kind of put out by the older kids trick-or-treating (as one neighbor put it, if you are out on a date, you are probably too old to trick or treat) and the lack of discernible costumes, but you start to realize that it's just the way that folks do things here, and you get into the spirit and go with the flow after a while. And I dare say that this year, it seemed like more people dressed up and that they were trying just a little bit harder.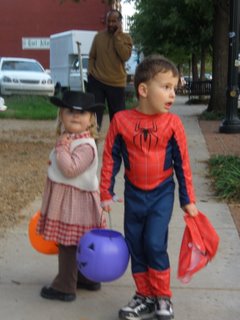 Todd hosed the children down from layers of stickiness and put them both down. About nine, we closed up shop (lights out, candles out), and Todd walked down the street to check out the Gay Superheroes. It seems that the money house (what I call the neighbor's house where everyone meets to party while handing out candy every year – a jackpot for the trick or treater) was doing a Superhero costume theme this year. I am sure they went all out and I should have sent the camera. Damn.
I'm drinking beer, fucking around with the Halloween photos, and listening to my Creepy mix. Decemberists' Leslie Anne Levine is on right now. Awesome song. Awesome holiday.
Tags: Costumes, Drinking, East Atlanta, Halloween, Holidays, Life in the Hood, Rollie, Tiller, todd