Hats. I love'em. I used to collect them. Vintage hats in particular, but the random, really great baseball hat, here and there, too. Then I moved into a very small two bedroom/one bath bungalow with my boyfriend (now husband) and at some point, I could no longer justify the space needed to maintain a 100-200 piece hat collection.
So, on New Year's Eve, I found out the party I was attending that night at my friend Cass' house required hats. As in, "you need to bring funny hats." THIS IS WHY YOU SHOULD NEVER THROW ANYTHING OUT. I had hundreds of the perfect hat. I knew I would need those, even if it was 16 years down the road. Damn it.
Todd reminded me that I still had a few in a storage box in the basement. (I admit that it is also true that you kind of forget what things you have when you keep them in storage and you don't really miss them.) I rummaged around in the basement and found the box. I opened it. I smiled involuntarily. I couldn't help it.
Those hats.
I do remember when we moved and I put the rest of them into storage, I kept the "prettiest" one out and put it on our new shelves in the basement, along with many hardback books, photos, some artwork we've collected over the years, a collection of hammer heads and figurines that belonged to my grandfather, my old camera collection, and my pottery. (That stuff could be a post of its own.) The hat originally belonged to my Aunt Lessie, who was both an occasional Goat Man, and a very fashionable woman of Savannah. She also forever remains ingrained in my memory for insisting on going swimming at our neighborhood pool with us when I was probably 12 or so. She actually brought her own bathing suit. God, I wish I had that still – probably 1960s! She wore it with her swimming cap, also vintage, a plastic number with plastic flowers on it. She was well into her 70s by this point, and I think my Dad almost had a heart attack when she insisted on going off the diving board. 12-year-old me thought she was a badass. I still do.
She and Grandma seemed to buy many of their hats at Savannah's Glendale hat shop. Most of their hats had the Glendale label sewn inside them.
Um, I guess I should admit that I also collect some postcards, but only of places that any line of my ancestors lived. (If you are interested in Georgia postcards, you can see the rest of that library's archived Georgia postcard collection here.) I later ended up with these Aunt Lessie hats and about 10 others, plus Lisa and I split all of my grandmother Palmer's hats. These are the only ones I kept.
My hat collection, though, really started one fateful day in Little Five Points. I believe I was skipping school that day, although I can't quite remember the details. I was there with my friends Jenni, John, and. . .one other person, but I cannot for the life of me remember who it was. Time makes things foggy. I bought this one at a vintage store. Or it might have been Junkman's Daughter when it was over near where Criminal Records is now. Again, fogginess.
Oh, how I loved this hat. I know exactly why; If you are a girl of the eighties, the hat with a bow might ring a bell for you, too.
In middle school, when that video came out, I wanted a hat just like Madonna's. The green beret with the velvet bow was as close as I ever got. Side note: This hat was later hijacked for at least a year by my boyfriend at the time, who wore it liberally. He also wore eyeliner, because it was 1990. My Dad loved that I was in love with a boy who wore hats with velvet bows, and eyeliner. (And he was a Yankee, no less.)
My mom must have picked up on this new obsession, because she gave me the following hat for Christmas one year when I was in high school. (Jason B. Vat 69! And the pink cassette player from middle school. Lisa, why do we not have that any longer? It was awesome.)
So, over the years, I collected more and more of them. Vintage stores, yard sales, estate sales. It probably got out of hand, but if you ever loved collecting, you know how that happens. I had so many people start bringing them to me, because they knew how much I loved them. Here's a not-so-great photo of my room at home one Summer.
I must have really chopped my hair and it looks like it was black at this point. (I cannot even begin to remember what it was like to have so much time on my hands that I would move home in the summer and decorate my room. Does not compute.)
I know it was college, because my sister is wearing a hat that I either stole from my friend Mike Maier, or let him draw on. I know that the artwork on the hat is his. I believe he also drew on some shoes I had, and definitely some jeans. See all the hats on the wall? They went all the way around the room, and it was not the whole collection. There are some on the bedpost over my shoulder, too. You can also see the very odd 1980s intercom system we had in our house (behind the lamp).
Side note: I had a different room in high school. My sister moved into it after I left for college and I took over her room, shown here. In my old room, I would unscrew the intercom faceplate from the wall, pull it out, hide contraband on the ledge inside with the wiring, then replace the plate and screw it back into the wall. I struggle to see how my children will ever pull anything over on Todd or me.
Remember the boy with the eyeliner and the beret?  Here is a hat he gave me for Christmas the first year we were together. We were Freshmen at UGA at that point. It was a beautiful gift. (Another beautiful gift, in the background, is the fan and silver stand that my husband brought me from Argentina a few years ago. I have a habit of picking men who are more thoughtful than I am. Opposites attract, I suppose.)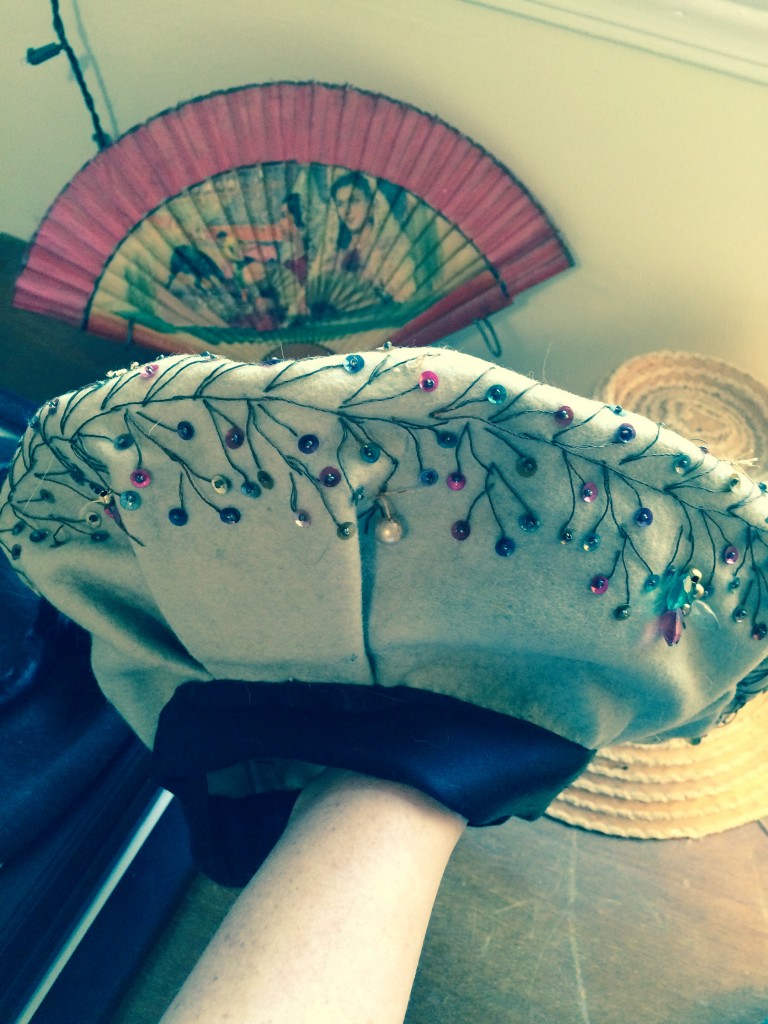 I adored this hat and yes, I kept it all these years, despite the fact that it was too small for my large head. I just loved it. I love it still.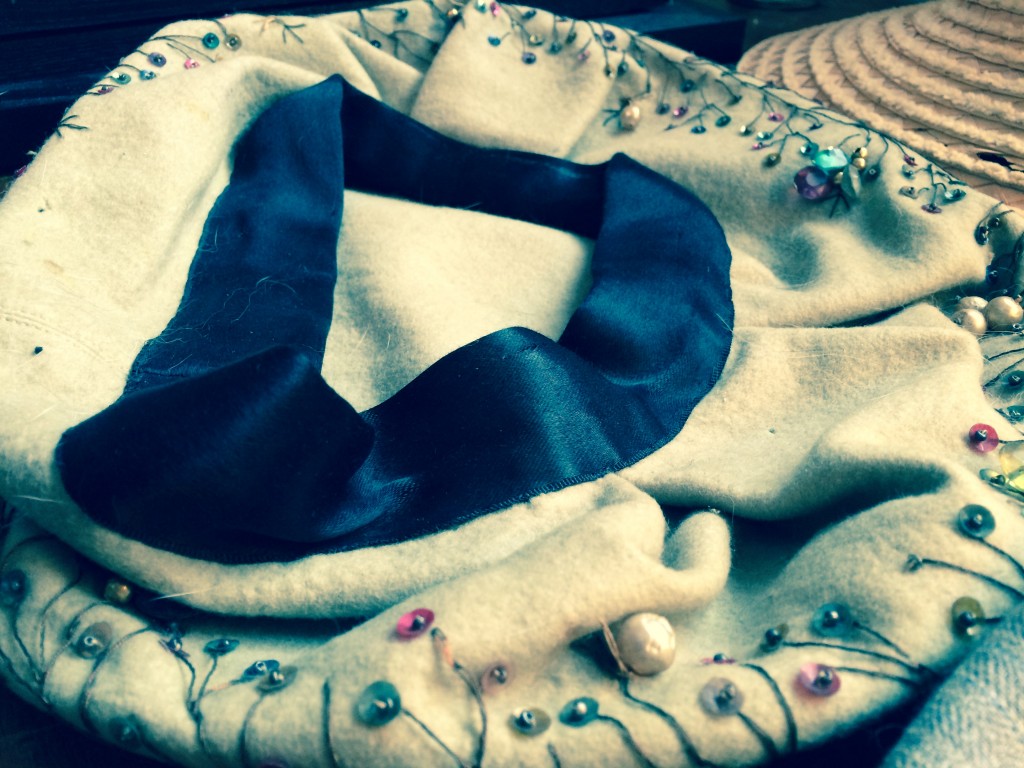 Side note: It was never lost on me that the boyfriend's purchase, while acknowledging my love of hats, was also a nod to his obsession with Perry Farrell. I mean, come on.

There was one more hat in the box.
It is not beautiful. I don't remember buying it or someone giving it to me, although someone must have. I do remember it being a staple of my wardrobe in college, though. I wore it almost daily, backwards (the 90s, yo), and I think that it's functionality was the reason that I wore it so much. It was lightweight enough to wear in Summer and I didn't care if it got messed up, so I wore it while I worked at The Grill, where every time you went home and you smelled like hamburgers and french fries (with feta) and grease. At one point, I lived in a three bedroom house on Prince Ave. with my friend Mya and a rotating cast of characters, sometimes as many as 6 of us living there at one time. There was also a time when every roommate also worked at The Grill and our house completely smelled like The Grill. It makes me gag now, the thought of waking up hung over, or having to be at work at 11PM for a night shift, and unable to find clean uniforms. We'd just share dirty work shirts off the floor of our bedrooms. My bedroom one summer was actually a dining room. With a curtain to the living room and a swinging door to the kitchen. (It is amazing what you start remembering when you start typing.)
I wore that hat out.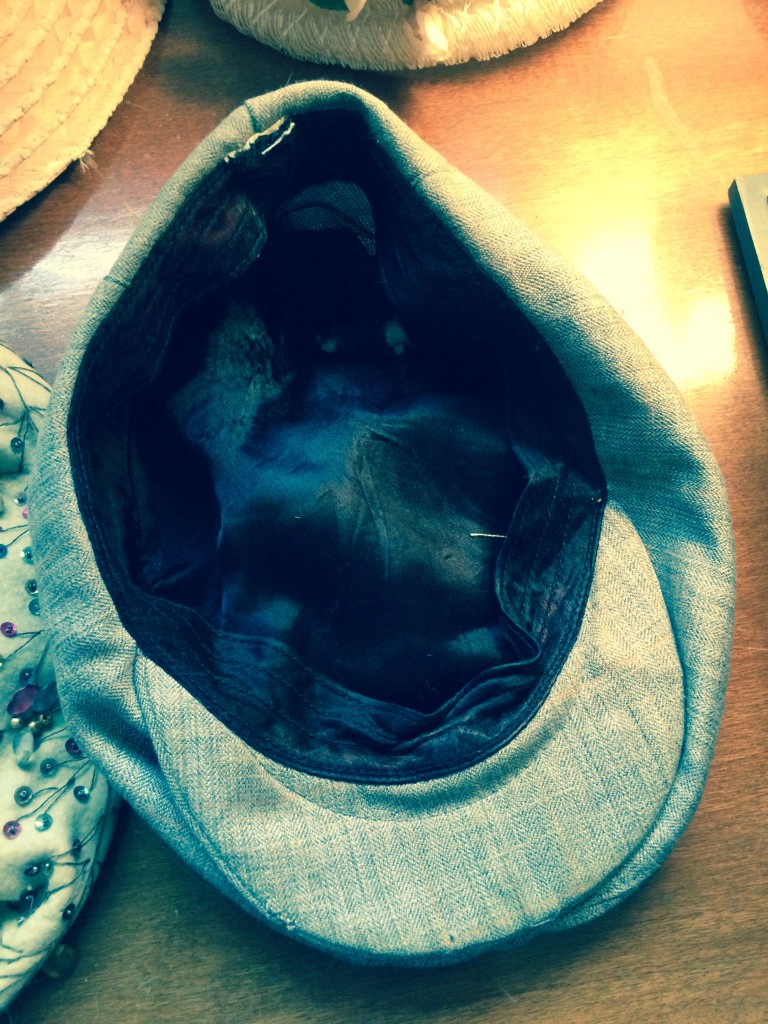 So, here I am, on the day before New Year's 2016, and we are asked to wear hats to my friends' NYE party, and I open that box, and I am flooded with memories of high school, college, music, and friends. Of being excited by things and people and culture and life. But it was that gray hat that struck me the hardest. It made me think of that first time in my life that my heart was broken, and I didn't know yet that pain lessens over time, or that you don't actually need other people, because either way things will be okay. I learned that, if you're patient, things will get better. I learned how to be alone and how to get over things, and how to love myself, all around that period of time that I used to wear that hat.
When I saw it lying in the storage bin, I immediately thought of this photo of me in the hat, and my grandmother's vintage coat (GOD, why do I get rid of things?) standing on the beach in Charleston. I was brokenhearted and had that awful feeling of wanting to run away, of fear, of not knowing I would be okay. I remember discussing it all with my friend Matt, a fellow insomniac who visited me quite often while I worked the night shift at the Grill. We made the decision to drive to Charleston as soon as I got off work at 7 a.m. We took my truck, a hand-me-down tan Nissan truck with a camper on the back that had belonged to my grandfather, with zero bells and whistles and which smelled like old dog farts, no matter what I did to alleviate the smell. We drove to Charleston and spent a cold day walking the streets, snapping photos, and then finding a cheap motel. And the next morning we drove out to the beach – Folly, I guess – and we had breakfast and then walked on the freezing beach. He took this picture without me knowing.
I still remember that morning on a Charleston beach, and the thoughts I was thinking, the things making me feel sad and overwhelmed. The feeling of not knowing what would happen. I was on a precipice. And it reminded me of the sadness and depression I felt just last year in 2015, on a different beach twenty-five years later, where I walked my dog at 7 a.m. on New Year's Day, and snapped this photo of myself.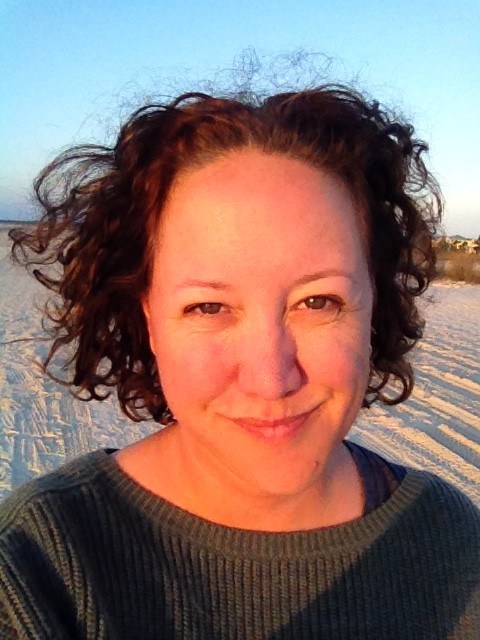 There I was that morning, on another precipice, seemingly standing at the edge of the world. I was in a similar place: Not heartbroken, but sad, lost, frustrated, and wanting to run away from all of my confused feelings. The difference was that I had already been there once before. And I didn't really run that first time, 25 years ago, even though I had the benefit of spontaneity, no responsibilities, and a road trip. I came back from Charleston to Athens, and I learned how to deal with feeling the things that I didn't want to feel, and I learned that no matter what, I would be okay, because I loved myself and I could take care of myself. I learned that Everything would be okay.
And I learned it all while wearing one nondescript, really nasty, trashed gray hat.