This gem somehow got lost in the leaning tower of procrastination on my desk.
My transcription:
Note to elf. From: Rollie
Elves are good at: Being funny and messy, good with forts, hard to find at morning, good at being awesome, and cool, and small.
Note to Rollie: You are good. I lik cookey.
It cracks me up that he wrote back for the elf and purposefully misspelled the elf's writing. Funny kid.
But this one, this one will always and forever be my fave. It is hanging on his bedroom door.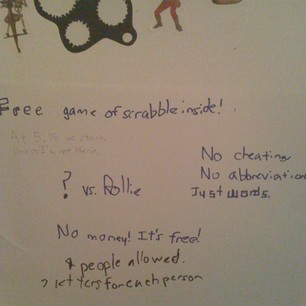 "No cheating. No abbreviations. Just words."
Awesome.